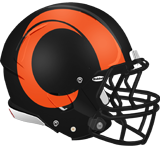 The Ramblers rolled to another big victory last weekend over Benedictine (OH). They look to extend their winning streak to three tonight as they hit the road for a Region matchup against the Butler Golden Tornado. Kickoff is scheduled for 7:00 p.m. at Art Bernardi Stadium. Directions can be found here.
Tickets are available at the gate, but you can also catch the game on Butler's NFHS Network here! You can also listen to the game on Fox Sports Radio 1330 AM on the iHeart Radio app or online here.
We hope you can tune in and cheer on the Ramblers from wherever you call home!